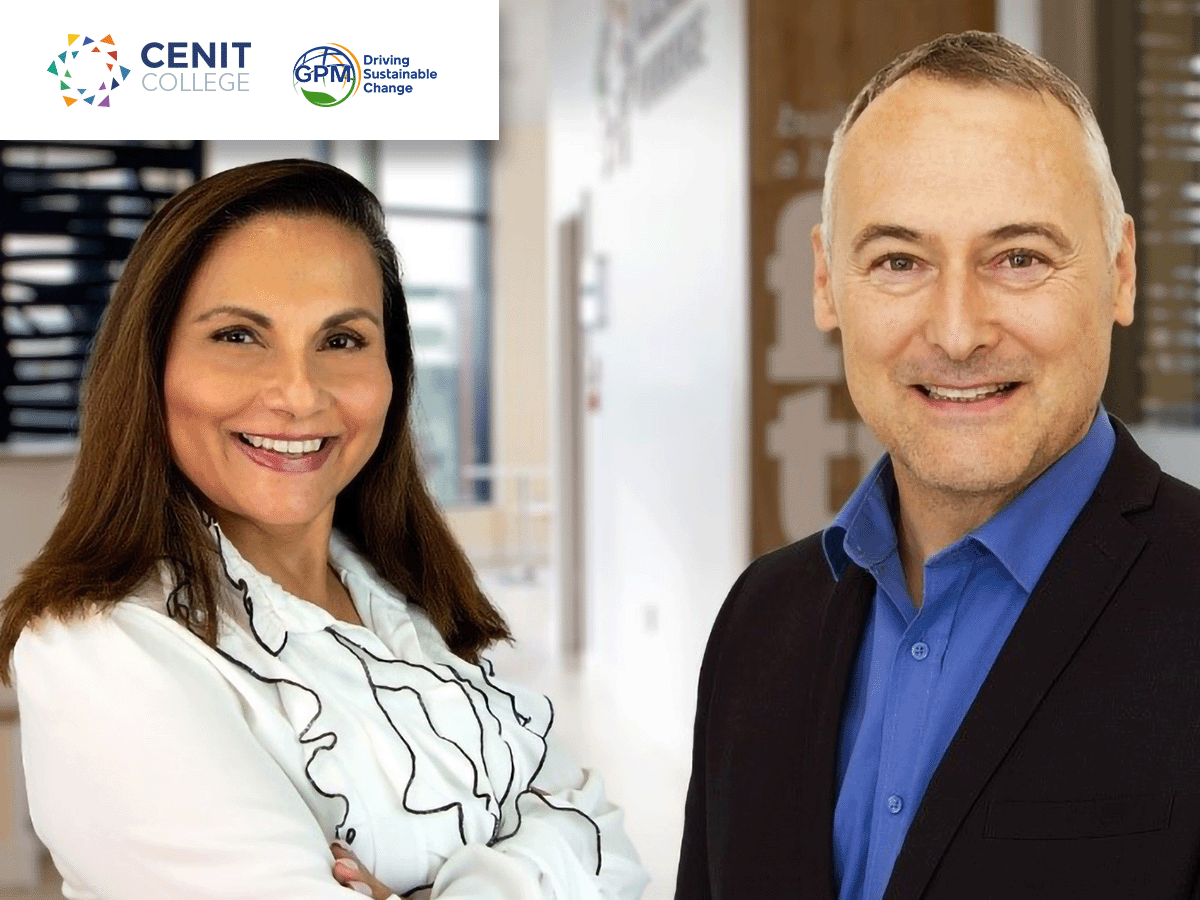 We are pleased to introduce our first Accredited Training Partner from Ireland – Cenit Collage. We discussed the importance of sustainability and the Green Project Management approach with representatives of Cenit Collage – Vaeni MacDonnell, the Managing Director of Cenit College, and Brian Cleere, a highly experienced Project Manager and sustainability advocate. Let's check what Cenit College does and why they became an Accredited Training Partner of Green Project Management.
What does your organisation do?
Cenit College is a multi-accredited Irish training company that has been delivering progressive and innovative learning programmes since 2001. We provide training, assessment and other services to people in the public and private sectors across a broad range of professional disciplines through class-based, blended and online learning platforms.
Why did you become an Accredited Training Partner of Green Project Management?
Cenit College has a distinguished history of providing Project Management courses over several years, with a steadfast commitment to integrating sustainable practices into our business. Our collaboration with Green Project Management reinforces our dedication to fostering partnerships with accredited organisations that share our sustainability and climate stewardship values.
What is important to you in the project management model developed and promoted by GPM?
The GPM PRiSM™ model is important because it focuses on sustainability, the triple bottom line, and the economic, environmental, and social aspects of the project's deliverables and outcomes.
The GPM PRiSM™ model incorporates sustainable practices into project planning, execution, and evaluation. PRiSM™ enables organisations to reduce their ecological footprint, promote social responsibility, and ensure long-term economic viability.
It also encourages stakeholders to consider environmental impacts, resource efficiency, social equity, and stakeholder engagement throughout the project lifecycle. By adopting PRiSM™, project teams can enhance outcomes and contribute to a more sustainable and resilient future. Its holistic approach aligns projects with global sustainability goals, making it a crucial tool in addressing environmental challenges and fostering sustainable development.
How did you introduce GPM training and certification into your offering?
Before offering GPM training to the public market in Ireland and the UK, we introduced the training to our staff through the three-day programme. This was a huge success among our staff, who can utilise sustainable practices daily.
Why should service providers and consultants include sustainable project management based on the GPM approach in their offerings?
Firstly, incorporating sustainability principles ensures that projects minimise adverse environmental impacts and promote long-term ecological balance. This aligns with the growing demand for eco-conscious practices and supports achieving sustainability goals.
Secondly, sustainable project management enhances stakeholder engagement by addressing social and ethical concerns, fostering trust, and improving reputation.
Additionally, it allows organisations to mitigate risks associated with climate change and resource scarcity, leading to greater resilience and adaptability.
Why do you think it is worthwhile to become GPM certified?
We believe in the near future; more companies will become recognised for their sustainable efforts. For example, public trading companies can be awarded a CDP climate change score.
We think choosing Cenit College to become GPM certified is important because we utilise UDL (Universal Design for Learning) principles in our courseware. This means that we offer multiple ways to engage in the course, multiple means of learning and demonstrating knowledge.
About Vaeni MacDonnell and Brain Cleere:
Vaeni MacDonnell is the MD of Cenit College and is passionate about sustainability. The college itself has an area where vegetables are grown, and the staff can avail the produce. Cenit College has reduced its paper output substantially and aims to eliminate paper output by 2025.
Brain Cleere is keenly interested in how project management can drive sustainability practices in organisations, he is also completing a MSc in Management of Sustainable Development. Brian is a highly experienced Project Manager with over 25 years of involvement in projects at all levels. Brian believes that focusing on project success is the key to business success. Brian has managed business transformational strategies with multiple and diverse engineering, construction, and financial services teams. He has delivered training to the industry at all levels and is qualified in the most advanced project delivery frameworks.
Contact with Cenit College:

Phone: +35319012014
Email: ask@cenitcollege.ie
Website: www.cenitcollege.ie