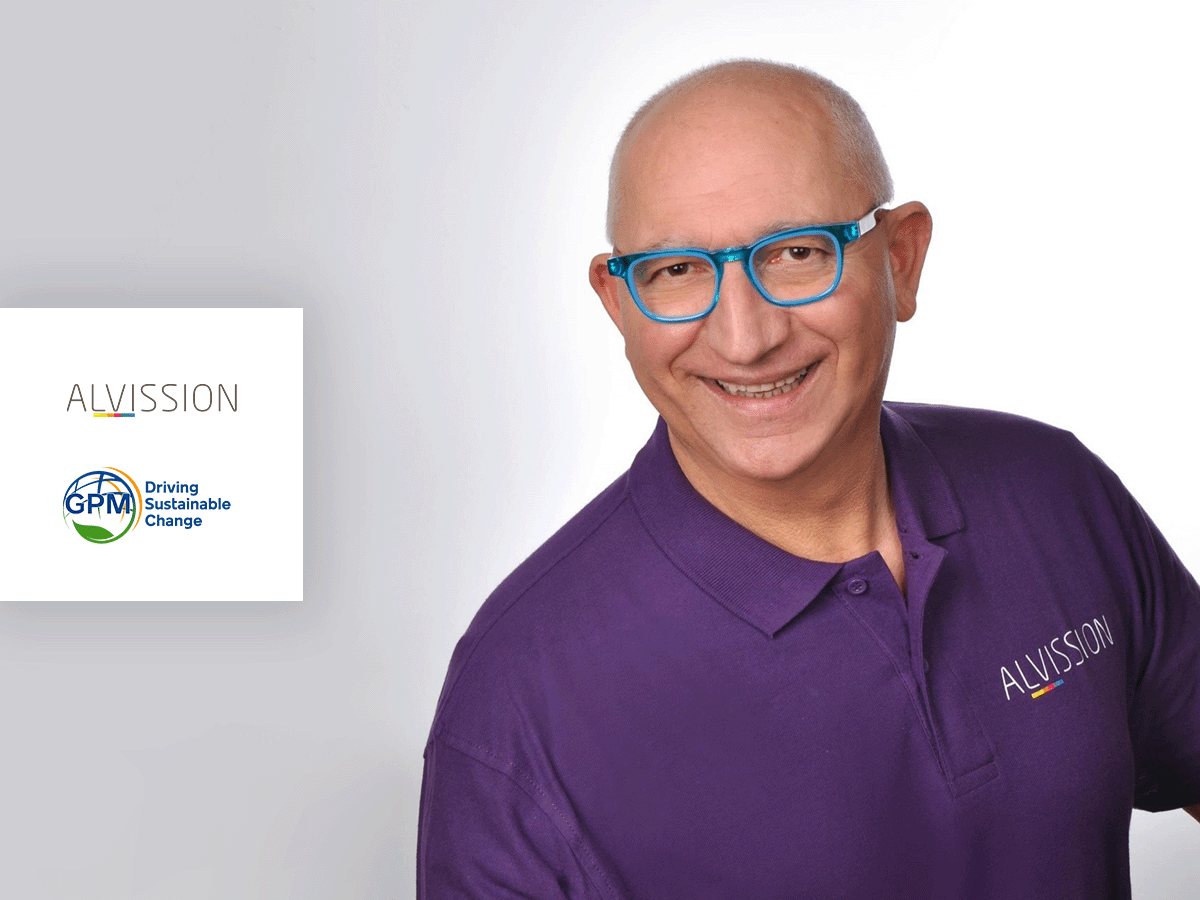 ALVISSION EDUCATION GmbH based in Saarbruecken (Germany) is the leading PMI-authorized training and consulting partner in Europe, which has been successfully growing for five years since Frank Tassone founded it. They provide an innovative training and consulting portfolio for employee and executive development in project management, transformation, and Agile leadership for companies. Starting in 2024, the Saarbruecken project experts will also introduce training in sustainable management as Green Project Management Accredited Training Partner (ATP).
Enjoy an inspiring conversation with Frank Tassone, Managing Director of ALVISSION EDUCATION and a professional with 30 years of experience, about his company, working with GPM, the importance of sustainability in management, and how, through projects, we can change the world.
What does your organisation do?
Our company was founded in 2018 in Saarbruecken. We are an authorized training and consulting partner of the world association for Project Management – PMI (Project Management Institute), which has become Europe's leading PMI training provider in just a few years.
With our portfolio, our experts offer a wide range of continuing education, from basic project management training to the most demanding international certification programs. With our innovative digital training and education programs, our team has received national awards from the German Federal Ministry of Economics and international accolades from the Project Management Innovation Award.
Customers include well-known international, German, and Saarland companies from numerous industries. ALVISSION EDUCATION serves these both from several live online training studios at its Euro Quartier location and directly at customer sites.
We train the whole world from our headquarter at Saarbruecken. I could never have imagined that a few years ago. With our training portfolio, trainers, and coaches from Germany, Europe, and North America, our Saarbruecken-based company has become the leading provider in Europe in just a few years.
ALVISSION EDUCATION experts offer an innovative and in Europe unique training and consulting portfolio for employee and executive development of companies in the areas of project management, transformation, and Agile leadership.
With the new topic areas for 2024 on sustainability in project management and PMI's first international project management certification program for construction management, plant engineering, and construction, as well as modular training for the agile leaders of the future, our PM experts are well positioned to meet the challenges of transformation for their customers in all industry sectors.
Why did you become an Accredited Training Partner of Green Project Management?
We must embrace sustainability goals for a better future and integrate them into all plans and projects. Sustainability must be anchored in all areas, and companies must understand that they, and thus also customers, benefit from it. It is a particular concern of mine to support this in the world of project management as a pioneer, so to speak, and thus make the world a little better.
True to my motto, "Improve the World with Project Management!" we were pleased to take on this new topic area and will bring it into the world with our help from 2024 onwards.
We are happy to partner with Green Project Management EMEA for the certification training and our customers are highly interested in this new certification for their Project Managers.
What is important to you in the project management model developed and promoted by GPM?
Most importantly, it is aligned with the ISO 21500 Project Management Standard, so it is easy to understand and integrate in any PM approach. Looking in the future, I could imagine that the GPM approach to sustainability in project management would be integrated into the PMI Project Management Process Model and the PM Standard, the PMBOk Guide, as another knowledge area. This way, sustainability would get much more attention and quickly reach a global reach. The partnership with PMI already exists.
What are your plans for introducing GPM training and certification to your offer?
In our ALVISSION EDUCATION PM curriculum, the GPM training and certification will become an essential milestone in the lifelong learning path for every project manager. So, we will integrate it as a module for beginners in combination with PM Foundation training and for advanced project managers as a single module.
Only when the companies see that they have no expertise in sustainability in the organization will many take up the subject for the first time and only then see the needs. We want to empower and educate our clients early on so that these gaps don't happen in the first place. I need to train today to have the experts to do so tomorrow.
Our new Live Online GPM-b Certification Training will start January 24-26 2024.
Why should service providers and consultants include sustainable project management based on the GPM approach?
With the new topic areas for 2024 on sustainability in project management, we are well-positioned to meet the transformation challenges for our customers in all industry sectors.
As of this year, all companies with more than 250 employees are required by EU law to prepare annual sustainability reports. These sustainability reporting requirements will gradually be extended to SMEs and smaller companies by 2030, so that every company in Europe will have to deal with the issue, and many organizations are still a long way from doing so.
Why do you think it is worthwhile to become GPM certified?
As in all other areas, certification is not a guarantee for successful projects, but through the GPM Basic certification, candidates demonstrate a sound knowledge in integrating sustainability in project management, putting them ahead of many other project experts. For me, sustainability in project management is the topic of this decade and will need much more attention. We can contribute to this. I appeal to our 1.6 million PMI PMP colleagues to tackle this continuing education and certification. These are our multipliers.
Let's improve the world with Green Project Management!
About Frank Tassone:
Founder and Managing Director ALVISSION EDUCATION GmbH. With a robust foundation of qualifications and extensive professional background, Frank Tassone is a multiple certified Master Trainer & Coach, international speaker, University lecturer, transformation consultant and passionate PM Activist. He performs many volunteer roles to help shape the future development in continuing education and professionalization of project management.
His passion and drive are EDUCATION in the world and, for him, the most important weapon for democratization and prosperity in the world.
With over 30 years of professional experience, Frank Tassone has held key roles as a Project Manager, Trainer, Consultant, and Coach within national and international organizations. He possesses extensive knowledge and expertise in employing classic, agile, and hybrid methodologies for effective project and product management.
He developed at ALVISSION EDUCATION, the leading PMI Disciplined Agile Instructor & Coach Team in Europe. His goal is to always offer the latest topics and content with his training and digital education formats. So, we are not only among the first in the German-speaking world to provide the Green Project Management certification, but also the first training provider to offer, for example, a special training only for "Women in Project Management", which is conducted by a certified acting coach, speech coach, and psychologist.
Contact with ALVISSION EDUCATION:

Phone: +49 681 410 964 80
E-mail: f.tassone@alvission.education
Website: www.alvission.training