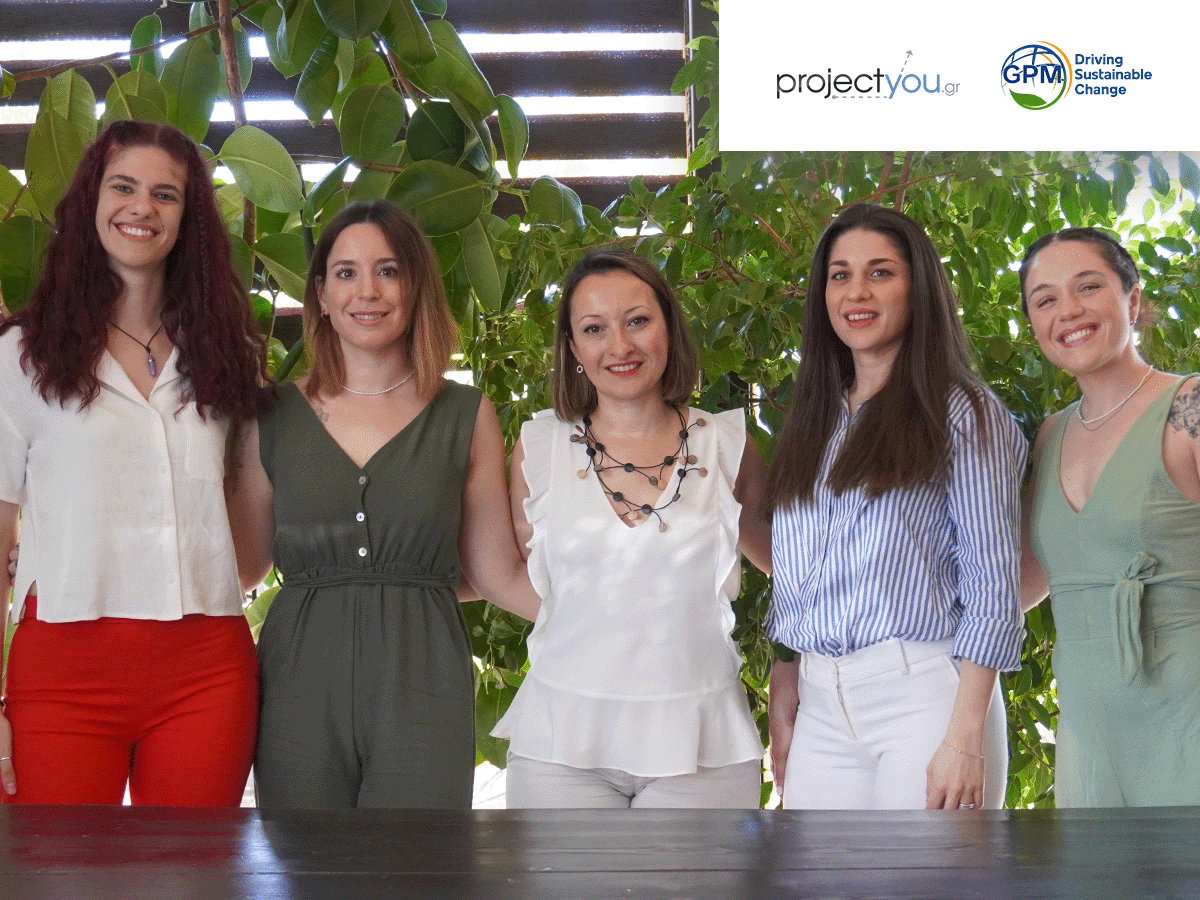 The family of our Accredited Training Partners is expanding, and we are thrilled to present projectyou – the first Green Project Management ATP in Greece. Let's get to know them better. What led to their decision to incorporate GPM training into their offerings? And what lies ahead for them regarding development in this exciting field? Join us for a discussion with Katerina Theofanidou, the Co-Founder & Managing Director of projectyou, to shed light on these and other questions.
What does your organization do?
Since 2009, projectyou has specialized in training, mentoring, and consulting. We provide services to companies and individuals for developing entrepreneurial ideas, business plans, establishment and management of companies, marketing, etc. Projectyou is an authorized training provider for International Certifications in Logistics (ELA), Project Management (IPMA), Scrum & Agile (SCRUMstudy), and now Green Project Management (GPM).
Why did you become an Accredited Training Partner of Green Project Management?
Projectyou has a long history of providing Project Management courses and has trained hundreds of trainees. By becoming an Accredited Training Partner for GPM, we believe we will bring an innovative certification to the Greek market, which will elevate the business standards in Project Management, including the sustainability aspect.
What is important to you in the project management model developed and promoted by GPM?
The GPM PRiSM™ model brings a different and essential scope focused on sustainability to the world of Project Management. It's important to consider the 3 aspects of sustainability: economic, environmental, and social. Until now, projects were more focused on the economic factor and less on the other two, which resulted in many projects' failure.
The GPM PRiSM™ model is designed to highlight the importance of the environmental and social aspects and promote a more beneficial process for the environment. Considering climate change and the necessity for decreasing carbon emissions, we can understand why GPMs' contribution is essential than ever.
What are your plans for introducing GPM training and certification to your offer?
For introducing the GPM training and certification in Greece, we will approach already certified Project Managers or other professionals interested in adopting the GPM PRiSM™ model.
For the best possible training regarding sustainable project management, we will adjust our training program to meet the needs of our clients and ensure their success not only in the examination process but also in their work.
About Katerina Theofanidou:
Katerina Theofanidou graduated from the Department of Industrial Management and Technology of the University of Piraeus and is a MSc holder of Energy Management and Environmental Protection from NTUA and the University of Piraeus. She is certified in Project Management by the International Project Management Association (IPMA-D) and a certified trainer for non-formal education by EOPPEP and by the Central Association of German Chambers of Commerce (DIHK e. V.). Katerina has 22 years of professional experience in multinational and large Greek companies and 16 years of experience as a trainer.
She is the Co-Founder and Managing Director of projectyou Ltd. since 2009, specializing in training and consulting services to businesses and corporate executives. She is also an entrepreneurship consultant for start-ups and existing businesses and a mentor for young entrepreneurs. Katerina is a trainer for adult education and teaches Project Management, Microsoft Project, Entrepreneurship, Sustainability, Environmental Management, Business Plan Development, Marketing, Soft Skills, Communication, and Presentation Skills in open and in-house seminars. Since January 2022 she is the President of IPMA Greece, and since November 2019 Katerina has held the role of Secretary General at the Institute for Logistics Management Greece (ILME). Finally, she has participated as a speaker in various conferences about Project Management, Entrepreneurship, Sustainability, and Logistics.
Contact with projectyou:

Phone: +30 211 402 5485
E-mail: info@projectyou.gr
Website: www.projectyou.gr